"Energy is the currency of all interactions in nature. To leave energetic considerations out of the equations of life and medicine is to ignore some 99% of what is happening. We are beginning to map the energetic pathways in the body. We just need a way to communicate with these electronic circuits, to turn on the right switches and harness the body's ability to heal spontaneously. Energetic approaches work quickly and with few side-effects. This is the medicine of the future."
James Oschman, Ph.D., Biophysicist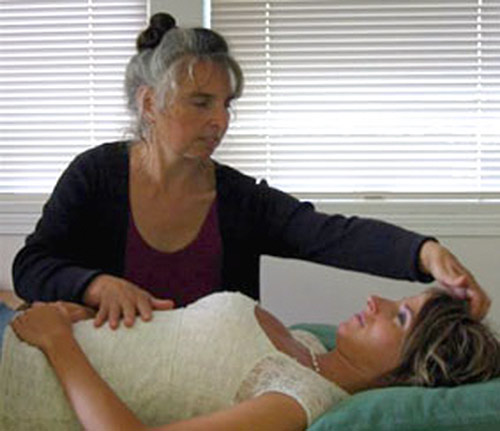 is a state-of-the-art holistic healthcare system. It works with your body's natural healing wisdom to promote health, vitality, well-being, and helps return you to your natural, energetic self without drugs or side effects.
BodyTalk was developed by Dr. John Veltheim from acupuncture, osteopathy, applied kineseology, chiropracty, western medicine, modern mathematics and physics, and ancient healing wisdom. It's based on four principles:
The body is a complex, interconnected whole with billions of synchronized actions taking place every second.
Communication between every cell and atom is crucial to
maintain balanced body functioning, synchronization…and so health.
Within each of us is an innate knowing that synchronizes all functions, knows who we are, how we function and what we need to function. This innate wisdom holds the key to our healthcare dilemmas.


Bodies have a built-in mechanism to initiate the healing process once communication and balance are restored.


BodyTalk practitioners use a form of muscle testing and a comprehensive
protocol of questions to determine what communication links the client's
innate wisdom wants repaired and in what order. Gentle tapping on the client's head and heart follows with each link to initiate the change. Once the communication link is restored, clinical results have shown that balance returns and healing happens – sometimes instantly, sometimes in the following days, weeks or months. No two sessions and healing processes are alike because each client's situation is unique.
BodyTalk is totally safe and non-invasive because BodyTalk practitioners do not diagnose or treat clients. Bodies heal themselves.
BodyTalk is a valuable stand-alone healthcare system or it can be integrated into any healthcare system to enhance and hasten results.

With thousands of practitioners in 26 countries, BodyTalk has addressed a wide variety of ailments and issues such as:
Arthritis

Headaches

Phobias

Pain

Stress

Viruses

Depression

Sports Injurie

s

Self-esteem

Endocrine Disorders

Infections

Learning Disorders

Emotional Disorders

Digestive Disorders

Allergies

Chronic Fatigue

Back Pain

Skin Disorders

Body Image

Parasites

Post-Traumatic Stress
Male client was troubled by post-traumatic stress disorder from being in Africa during a civil war. After two sessions he reported, "It's amazing. Things are getting better and better all the time. I'm very pleased."
Shoulder Pain
Client had very limited range of motion in her right shoulder. After two sessions the pain in her shoulder disappeared and has not returned. At the same time a block to her creativity was dissolved.
Warts
Female client presented with a list of concerns including warts on her right foot – a problem for six years. She had tried every known treatment/therapy with no success. The warts were so bad they eventually covered her whole foot. The doctors gave up and so she did too, choosing to ignore her foot which she couldn't bear to look at. Five days after her BodyTalk session she was in the bath when she noticed there weren't any warts on her foot. She remains wart-free.
Self-Esteem/Relationship Issues/Depression
Female client with low self-esteem presented with recurring depression, relationship trust issues and stomach problems. After two sessions she reported being "really relaxed and calm," had slept better, no longer felt depressed, felt her heart had "opened up", and there was an easing in her relationship. She had surprised herself and her partner by speaking out assertively to him about her relationship needs – something she couldn't do previously. The stomach problem cleared up and she was amazed at how much better she felt overall.
For details of the next regular monthly public presentation
or
to book a presentation for your group or organization
Phone the clinic at: (250) 897-0055
Or email info@RobertaMeilleur.com
Roberta Meilleur, Certified BodyTalk Practitioner
Clinic address: 949 Fitzgerald Ave. (Rear entrance) Courtenay, BC Canada
To learn more about BodyTalk, or to locate a practitioner near you, visit:
www.bodytalksystem.com